The Dalles Mural Society
The Dalles Mural Society was organized in March 1993 with the mission of pictorially preserving the epic historical events that have occurred in our area.  The project has grown to 16 murals with 13 of these having "voice boxes" that allow the visitor an oral interpretation of our history.
The murals bring geographic awareness to what surrounds us not only in our community but in a larger way such as the journey of  Lewis and Clark.  We want our murals to encourage viewers to continue to learn about our area and its history.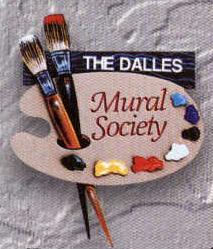 This wonderful artwork welcomes visitors and tourists who stroll into the downtown area via the Union Street overpass that leads to the Columbia River. The underpass project restored access to the river from the historic downtown business district of The Dalles and was completed in September of 2003.
These famous moments in history have been magnificently illustrated by renowned northwest artists. This is truly a cultural and educational experience for all ages.
Every mural features a legend which tells the story of its illustrated historic event. The Dalles, Oregon has a rich cultural history. You will find murals honoring the original Native Americans who have lived in this area for over 10,000 years, the Lewis and Clark Expedition which passed through The Dalles during their historic journey from St. Louis to the Pacific Ocean, and murals honoring the pioneers who forged a new life here at the end of The Oregon Trail.
Several of the murals have audio narration. Each mural tells the story as recorded by historians, Native Americans, or the artist that created them.