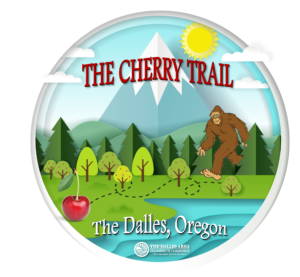 Get out on the Cherry Trail! Pick up your Cherry Trail Passport from any participating business along the way. The Cherry Trail offers everything from tasty treats to luscious drink specials and special savings in between. The more stops you make along the way the greater the reward. Collect 5 punches and get an Explore The Dalles sticker. Collect 10 punches and get a Cherry Fun in the Sun keychain made by The Workshop. The first 10 people to complete the Cherry Trail Passport will get a $20 Explore The Dalles Gift Card. Once you complete your passport turn it into The Dalles Area Chamber of Commerce to be entered for your chance to win a basket of local treasures with a special Cherry theme.
During the month of July keep your eye out for wooden cherries hidden in local businesses. When you spot the wooden cherry in a local business simply inform the staff member working and you will be given an entry into a raffle. The winner of the raffle will win a local gift basket with a few of Bigfoot's favorite things! For every entry, you will be given a sticker of Bigfoot enjoying his favorite Cherry Fun in the Sun activity.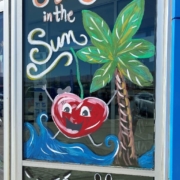 Local businesses have been busy decorating their storefronts to create a festival Cherry theme all around The Dalles. We need your help to pick your favorite. heck out all the window displays and vote for the best. The winner of this contest will get some free advertising from The Dalles Area Chamber of Commerce.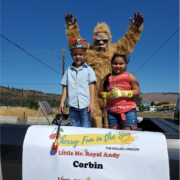 This year we welcomed back the Little Royals! The community voted and chose Little Mister Andy Corbin and Little Miss Ann Sophera. Thank you for everyone that participated and took the time to vote for the Little Royals. We had a great turnout and look forward to doing it again next year.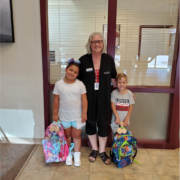 The Dalles Area Chamber of Commerce is having a blast hosting the Cherry Fun in the Sun Pop-up Markets. Visit the Cherry Fun in the Sun Pop-up Market every Saturday in July from 10:00 am to 2:00 pm. Stop by and support local Wasco County vendors. If you are a vendor and would like to participate, please contact The Dalles Chamber. We still have spaces available and would love for you to join us. We will continue to accept vendors until all spaces are full.
As always if you have any questions, please reach out to us at 541-296-2231 or email [email protected]. All COVID-19 Guidelines will be followed during all Cherry Fun in the Sun activities.
Cherry Fun In The Sun Events